Biography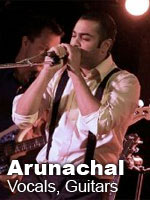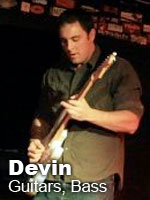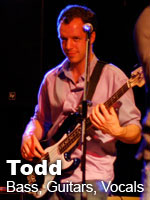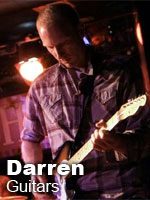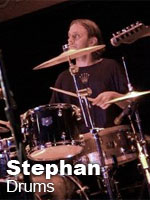 Arunachal – vocals/guitars
Devin Hannan – bass/guitars
Stephan Szczesniak – drums/percussion
Darren Ford – guitars
Todd Larter – Bass, guitars
Toronto-based Lickpenny Loafer started ten years ago as a songwriting journey by Arunachal and Devin Hannan. The band has recently completed
and released their second studio album in January 2011 entitled 'People Will Talk'.
Weaned on a wide range of influences, the band today draws heavily from contrasting styles and serves up its own version of progressive pop. Driven by soaring vocals and expressive bass melodies, the band exists in a place where Nick Drake, Wilco, and Jeff Buckley might meet for a cup of coffee. With the added influence of contrasting styles such as Miles Davis, The Smiths, D'Angelo, and Radiohead, the music is completed with a layering of various and sundry sounds that both surprise and test the listener.
This musical collaboration is the combination of two very different and personal journeys. Arunachal was born in Calcutta, India, into a South Indian household that was passionate about classical (carnatic) music. Raised in a family of singers, he began devouring music as a toddler when his grandmother, a composer, would regularly keep him with her as she developed her compositions. She would write in a focused trance while he would sit on her lap chewing through sari after sari. This was how Arunachal learned to eat music.
Devin Hannan made his first guitar out of a 2×4, nails and elastic bands at the age of 11. After a year of trying to make music out of toolshed castaways, his father finally granted him a real guitar on his 12th birthday. From the start, he totally committed himself to studying, discovering, and playing the blues. B.B. King, Muddy Waters, and Robert Johnson would be his first great teachers, before Jimi Hendrix provided the segue into the world of rock.
In 1998 Arunachal and Devin met while studying to become engineers, beginning a fruitful songwriting collaboration that was essential to survival during those five years filled with heat exchangers, pump curves, and differential equations.
In 2003, Arunachal journeyed to South Africa. He spent over a year in the country, absorbing the culture, enduring many challenges, and ultimately falling in love with its people. At around the same time, Devin endured a grave personal tragedy, one that spelled a very different kind of journey for him – an immense struggle that ultimately revealed the inextricable weave of sorrow and hope in life. Both experiences yielded a tremendous outpour of songs. Again, writing music proved essential to survival.
In the spring of 2005, Lickpenny Loafer made their official debut in Toronto. The band has since played countless gigs and gathered a substantial and loyal local following. In January of 2007, they were
very proud to announce the release of their first EP (self-titled). Around the same time, the addition of drummer Stephan Szczesniak, guitarist Darren Ford, and bassist Todd Larter completed the band's current five-piece lineup.
After devoting the last five years to developing and honing their sound, Lickpenny Loafer is poised to make the next step forward with the latest release of its second studio and first full-length album entitled "People Will Talk".
In today's world of information overload and three-second sound bites, the band does not exist to be a one-hit wonder; all of their songs have been subject to a tremendous investment of time and energy. The result is music that appeals to audiences much in the way that wine appeals to
the taster. It is music that the band hopes will survive, endure, and ultimately shine over a long period of time.